These pics spooky as fuck! Also rec quality sounds good!
I'm recording straight from Rode NT5s to my PC via a mixing desk, then noise reduction in izotope. Considering it's a small living room I don't think it's too bad.
I'm listening through TV set up but kicked over to this from Hamelin's Hexameron rec. Your's sound better tone wise back to back.
Ah, epic Hyperion sound production values!
Yeah… they should put out the compressed versions for ipod style mofos but have uncompressed sound - especially when buying "studio" masters n shit. Da Doc have not had a bass register since what his medtner album?
Daim, I get a TCHAIK vibe from da festin Orage.
It really sounds good.
Any update on da KAT masterclass btw? Troubleshooting a way to REC it?
They usually swim in oceans of reverb.
Nope, not heard from him! It's going to be either a matter of finding a way to rec the phone, or it's going to be buying a laptop! I can feed the audio into the phone now but if I want to rec it to my pc at the same time I'll probably have to buy a splitter cable for the output from the mixer.
Can I ask where you ended up putting the NT5s? I'm trying to do much the same (rec a grand in a small room) and I can't find a decent mic placement.
This is the way I have it atm. I'm surprised it's working as well as it appears to be, but for whatever reason the bass is better with the left mic pointing diagonally rather than more or less straight ahead like the right mic.
I also seem to have had better control over the audio quality after feeding it through this inexpensive mixer (though in fairness I needed it to connect the mics to my pc):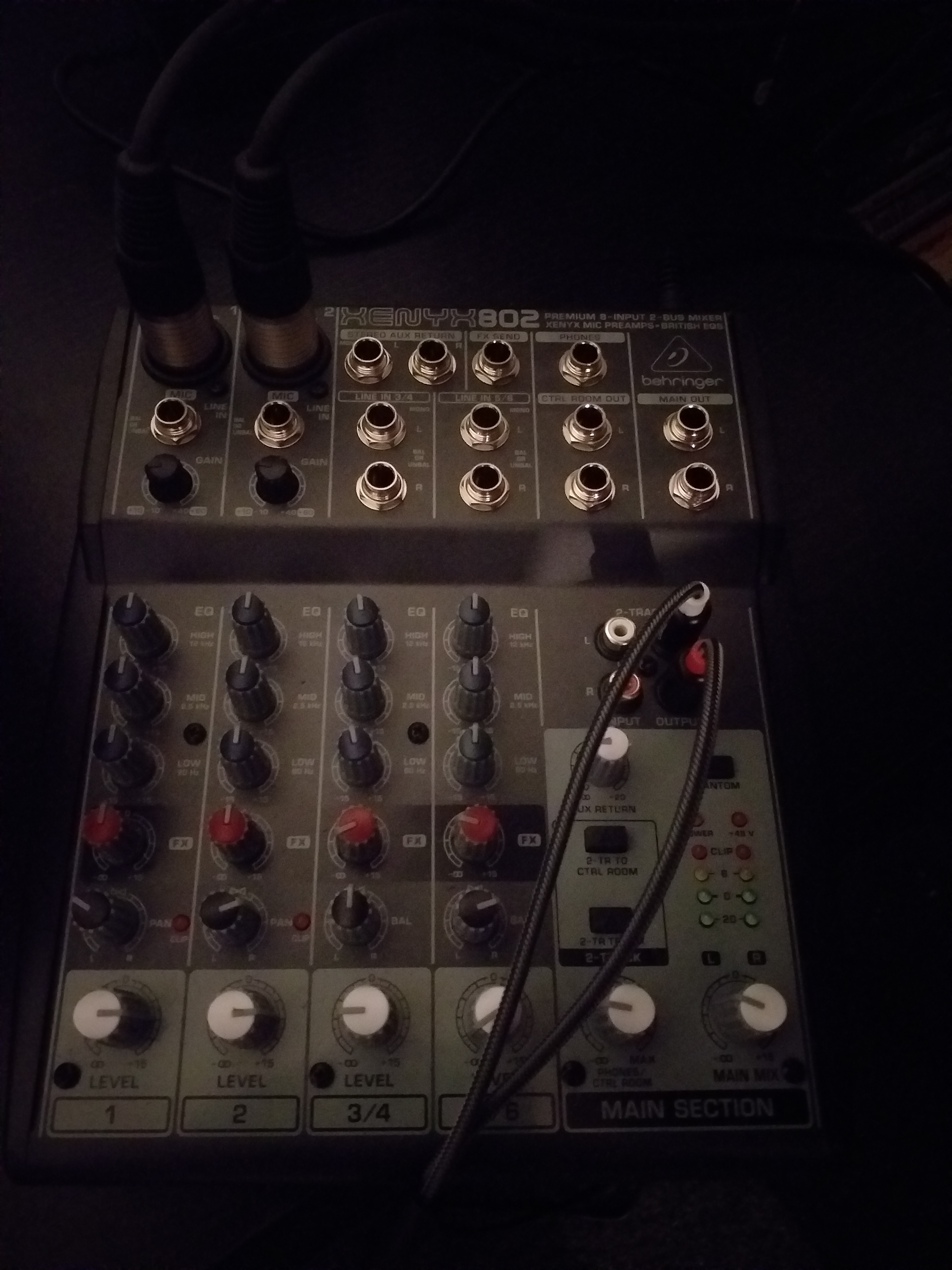 Thanks for the info - do you find you have to watch your breathing with the mics placed like that?
I've not been picking up much tbh. I suppose the direct line of the left mic is pointing more at the upper treble than to where I am. I was getting far more breathing noise with a phone sitting at the rightmost end of the keys.
Thanks mofo - I appreciate it! I'll experiment along those lines