Only article I can find atm is slipped disc and I dun want to post that
Same day as Daniel Wayenberg it seems.
and sadly Dina Ugorskaja as well
ah Dina died? She's so young.
Badura-Skoda is actually still alive!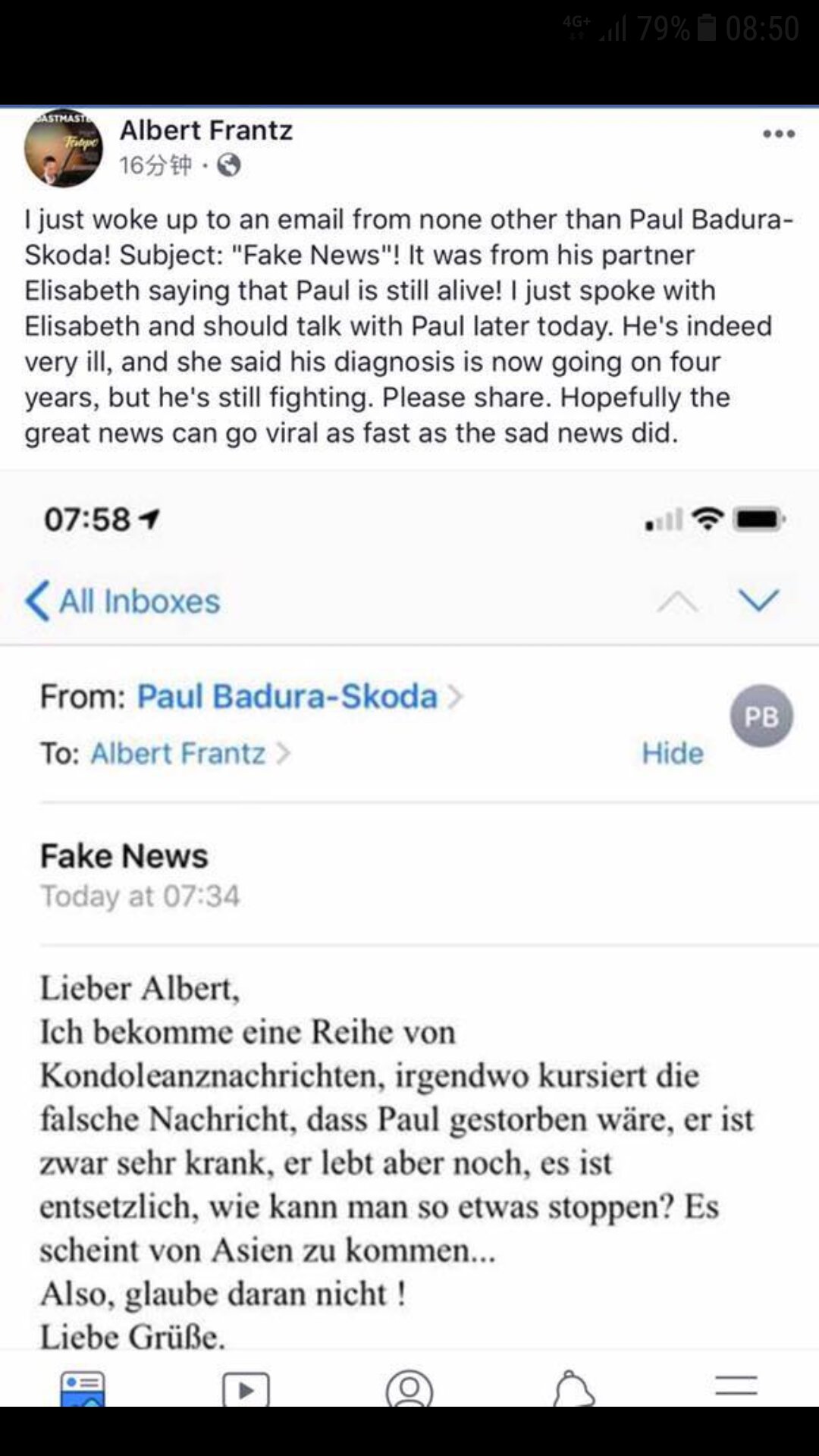 Haha
I don't know anything about Wayenberg, but sad to hear about Dina. At that age I knew the cause already before looking. I feel for Anatol as well, living to see your daughter die must be a terrible thing to go through.
Haha just saw that. No wonder it was just slipped disc

I met Wayenberg in Holland. A very respectable pianist with an international career, but I never liked him very much - not as a pianist and not as a person.
Aha Badura'z coda haff not cummah.
Hah, da slipped dick proves its journalisdick excellency yet again
Haha, da NL'z journaliztic algorithm= saw sumthing vaguely gozzipy on da twittah, muzt print asap!
I see he haff pozz covahed hiz trackz and deleted da original ardickle?
Same 'fake news' - long before that word was born - circulated about the sudden death of Friedrich Gulda. But it turned out that he himself launched it. But fate never forgives and just a few month after this he really died.
This time, it is true. RIP, Maestro PBS!
Rest in peace…
His last recital at Musikverein - May 31, 2019
fukkkkkkk
I see, I never heard a single one of his recs!
RP to diz legend…
Diz perf zhowz why he quit. DIz make HO in JAP look lyk a tech maztaclazz

Zumwut harzh but we need zome recz ov him in hiz prime fo it to be fair
It's a bit sad. I've noticed it many times: usually, singers know perfectly well when to retire from the concert stage, but instrumentalists don't. I prefer to not listen to this, because I know how his Schubert could sound in his prime…
I was about to say, what is the emergency to play in public when your pianist is in shambles?
There are so many interesting things out there, like composing, arranging etc.
Why play sub-par in public? Is the fee THAT good?