TR: Mikey, Canadain, Vlad, 88, Festin
BR: TM, X, k-nar
I need a cheat sheet for the leftmost gentlemen, but otherwise
Standing: ?, Herz, Chopin, Dreyschock, Thalberg
Seated: ?, Henselt, Liszt
I think seated left really is trumofo
Last three correct!
Last two correct!
So that leaves only 3 more names to guess
Indeed strange that Herz wasn't included here…
Wat!
I thought I recognised Herz
[quote="xsdc, post:5, topic:27335"]
I thought I recognised Herz
Summary

Theodor Döhler
Haha brilliant

My favourite (and practically only) fact about Dohler being that once when he was giving a recital the audience spotted dat da Thalburglah wuz amongst them. Result: concert stopped until Thalberg had played Moses.
I've read through Dohler's Norma and wasn't impressed. I think it was a "home market" transcription.
Top left, Pixis maybe? The pics I've seen of him always look lighter.
Summary

Edouard (or Edward) Wolff
Yeah totally unknown to me, too…
There's an album with some of his pieces:
YouTube
He's not in the photo, but, in a slight thread derail, does anyone have an opinion on the paraphrases by Emile Prudent?
Just about unplayed, though there is this decent perf:
Seems musically and pianistically pretty enjoyable!
Not A grade imo, but a nicely put together salon compo.
Found a better quality reproduction. Apparently this was published in the Gazette Musicale, 1842. Da Gheyshock mysteriously disappeared.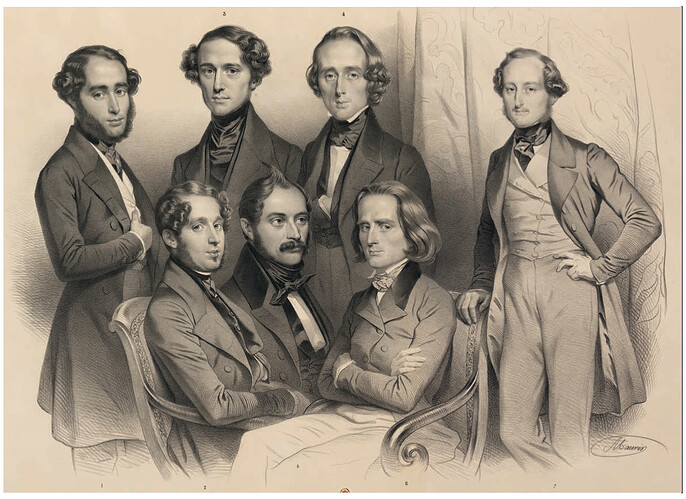 Aha dis 19th c photozhop!
I was familiar with Wolff actually. He's mentioned in the literature, and as a curious teenager I unearthed some compositions of his. I remember exactly nothing from them, but I do recall he was very Chopin influenced.
Rosenhain however… ¯_(ツ)_/¯