Yeah, that's a sus haircut.
the fatty argument in da commentz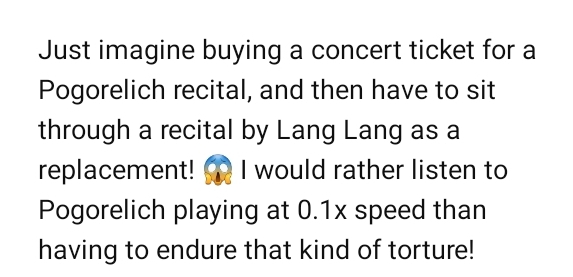 Ahaha dis just totally delusional, the replacement wud never be da dongah - da 88 world haff moved on, pozz not for da bettah. It wud surely be da poon!
Bring a large blanket to wank in comfort
Oh damn I remember that. I didn't know his byron janis disease took his dex over the years back then. Guy was right. Learning that actually ease my modern pogo hate a bit.
Yeah, there's that FF video where you can see a bump on his pinky. I'm not convinced that he has arthritis. I haven't seen the same bump in other close-ups. Also, why would he and his manager reveal that even if it was true.
He can still bring it when he chooses. The Rach Zon 2 from his SONY release has moments of ferocity. The same with the Chopin release.
The other 2 things I'd say it's that he was already heading into this deconstructive approach in his last few releases on DG. And, I think most pianists lose some dexterity over time. Da Ho still had lots of tricks in his bag, but he wasn't the supernova that he was in his 20s and 30s by the late 50s and beyond. Tis life.
Yeah a certain heaviness crept into his playing by about 1945 or so
I'm not saying da Ho's artistry didn't develop. Experience combined with talent compensates for some diminution in raw dexterity.
Prob the wanda, cuz the Ho never got arthritis